[Apply] UP Yogi Daily Laborer Bharan Nutrition Bhatta Yojana Online Application Form 2021 upbocw.in . On
UP Yogi Daily Wage Laborer Bharan Nutrition Bhatt Scheme 2021: The Uttar Pradesh government on 9 June 2021 transferred the online amount of Rs. 230 crore to 23 lakh (2.3 million) laborers/workers as subsistence allowance under a relief scheme amid the COVID-19 pandemic. This scheme is being run by the Uttar Pradesh Building and Other Construction Workers Welfare Board. In a virtual function, Chief Minister Yogi Adityanath distributed a token of Rs. 1000 each to five labourers/workers to speed up the process. He also launched a portal for the registration of laborers in the unorganized sector.
UP Yogi daily wage laborer Bharan Poshan Bhatt Yojana 2021 Update
During the outbreak of the coronavirus (COVID-19) pandemic, poor people are suffering as business slows down in Uttar Pradesh. This curfew has mainly affected the daily wage laborers but it is necessary to save the lives of the labourers. So, Uttar Pradesh Govt. Coming up with relief measures and as a part of it, Yogi Adityanath has launched the daily wage laborer Bharan Poshan Bhatta Yojana. state government. UP Yogi Dihadi Mazdoor Bhatta Yojana Online Application Form 2021 invites at upbocw.in.
Yogi Adityanath said that organizing the marriage of daughters is also included in the schemes for the welfare of labourers. The CM even said that senior ministers and officials welcomed the guests at such weddings. Social Security cover of Rs. 2 lakh is also being given to the workers/workers of organized and unorganized sector. More than 40 lakh (four million) migrant laborers returned to the state during the first wave of COVID-19 in 2020.
Chief Minister Yogi Adityanath said that the labourers/workers were most affected during the lockdown and the state government worked in their interest. While interacting virtually with the laborers/workers of different districts, the Chief Minister asked them about the benefits they would get from the government schemes. Labor and Employment Minister Swami Prasad Maurya informed the Chief Minister about the various works being done by the State Government for the labourers.
UP daily wage laborer nutrition bhat scheme amount
state government. Has issued Rs. 1,000 as UP daily wage laborer Bharan Poshan Bhatt Yojana amount. The workers/workers stand with the state government with full commitment in the fight against Kovid-19. The state government is working in the interest of farmers, labourers/workers and youth.
Prime Minister Narendra Modi had announced a "Garib Kalyan" package for labourers/workers during the first wave of COVID-19. state government. During this period, the Uttar Pradesh Workers and Workers (Employment and Employment) Commission was formed for them. The commission was working to protect the interests of the workers and get them jobs. He said that the model of working in the interest of the workers of the state government is being appreciated at every level.
Several relief measures include shelter homes for poor and working class people. state government. The UP government has also ensured adequate supply of ration and food items to the workers. Apart from this Rs. One thousand assistance has also been sent to the bank accounts of registered laborers. But the problem is arising because most of the workers are not registered under the government. Plan
Now all those left out poor people or daily wage laborers who are not yet registered can now apply by filling Yogi Majdur Bhatta Online / Offline Application Form. Such newly enrolled beneficiaries will get the benefit of UP government schemes in future.
Uttar Pradesh Government Schemes 2021 Uttar Pradesh Government Schemes HindiPopular Schemes in Uttar Pradesh:UP Ration Card List Kanya Sumangala Yojana Yogi Free Laptop Distribution Scheme
Apply UP daily wage laborer nutrition bhat scheme 2021
state government. Started inviting UP Yogi Mazdoor Bhatta Yojana Application Form 2021 for daily wage laborers. This scheme will ensure that the workers get adequate assistance from the Uttar Pradesh government.
yogi daily wage laborer nutrition bhatt scheme online registration form
To help the daily wage workers, Govt. Various schemes have been started for their welfare and one of them is named Mazdoor Anudan Yojana. All the persons who register will get Rs. 1,000 in their bank accounts through DBT mode. Given below is the complete procedure to fill UP Yogi Majdur Bhatta Online Registration Form 2021:-
Phase 1: Firstly go to the official website http://upbocw.in/english/index.aspx
step 2: On the homepage, scroll down to "laborerClick "Tab" in the main menu and then "Labor Registration / Correction"Tab as shown here:-
step 3: Then the UP Labor Registration Online Application Form will appear as shown below:-
step 4: All Interested Applicants Enter Your Aadhar Card Number, Circle, District, Mobile Number and Click on ""Apply / Modify"Button to complete the registration process with the Uttar Pradesh Labor Department.
It is important to note that all the laborers registered with the UP Labor Department will be eligible for the UP Pravasi Mazdoor Bharan Poshan Bhatta Yojana.
UP Daily Wage Laborer Bharan Nutrition Bhatt Yojana Offline Application Form
Daily wage workers can also apply for Yogi Daihadi Mazdoor Bharan Poshan Bhatt Yojana through offline mode, the process is mentioned here:-
Daily wage laborers have to go to either city council or municipal corporation or municipal body or village panchayat for offline application.
The offline application form for Yogi Mazdoor Bhatta Yojana for daily wage laborers will appear as shown below:-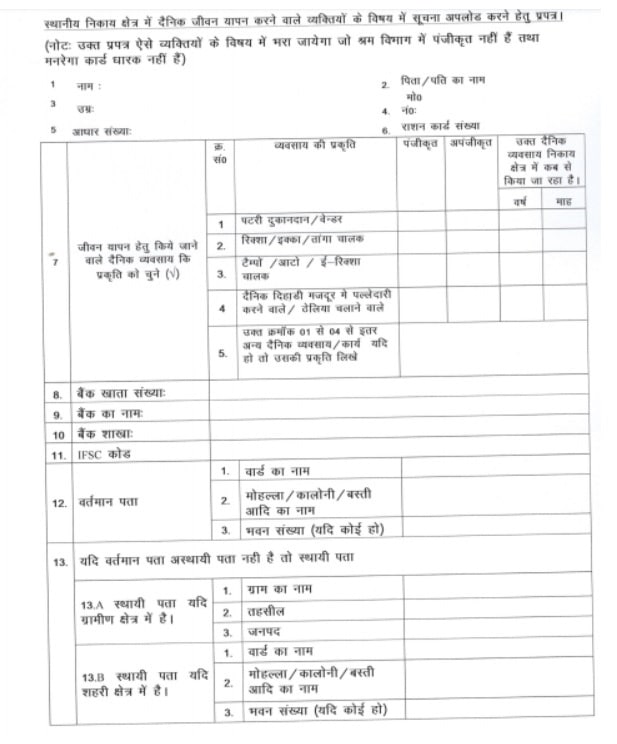 Only those laborers whose name is not registered in the UP Labor Department. The portal or applicants name not present in MNREGA labor list can only apply.
/Vendor,Vartak/Ta Uri Driver,Daitya/Auto/E Driver Driver,Daily Daily Worker/Puzzler in Manjidia/Winger with Wings, Daily Worker Birds Flying, Daily Worker Birds Flying, Daily workers Can apply offline or online.
Nodal officers nominated in the city council and executive officers in municipal or municipal bodies will register the workers. The collector has been given the responsibility of nominating the nodal officer.
UP daily wage laborer nutrition bhat scheme eligibility criteria / document list
If you are a daily wage earner, then you must have some documents for Yogi Mazdoor Yojana Registration to get the scheme benefits:-
The laborer should be a permanent resident of Uttar Pradesh.
The laborers must have a registration certificate from the UP Labor Department, Municipal Council/Corporation or Gram Sabha.
If the applicant employee is registered in any of the above departments, the assistance amount will be directly transferred to their bank accounts. Kiln Workers official website www.upbocw.in . You can register online at
Benefits of Yogi Mazdoor Bhatta Yojana
The work of this scheme will be done by poor workers and construction workers (Magardar, Khomche migrant, Rehri, Ferri, construction work)
UP Govt Scheme for COVID 19 affected daily wage workers
Uttar Pradesh government has announced a new scheme to provide monetary assistance of Rs. 1,000 for daily wage workers affected by Coronavirus (COVID 19). This is UP Govt. This scheme will benefit 35 lakh people including 20,37,000 daily wage laborers and rickshaw pullers in the state. Around 15 lakh people who run kiosks and other small businesses and are dependent on daily income will also be part of the relief scheme.
CM Yogi Adityanath has also urged people to follow the guidelines issued by the government. The CM stressed on taking strict steps and said that the outbreak can be stopped only with collective efforts.
Rupee. 1,000 UP scheme for daily wage workers affected by coronavirus
UP CM Yogi Adityanath has decided to give Rs. 1,000 to daily wage labourers, rickshaw pullers etc. who are registered with the Labor Department. Similar monetary relief will be given to over 15 lakh people dependent on daily income for their livelihood. Fund distribution exercise will be done in collaboration with the Labor Department. PM Narendra Modi has addressed the nation and urged people to avoid gatherings to avoid the outbreak of Coronavirus (COVID 19).
The spread of COVID 19 can be stopped only by taking strict steps. state government. Isolation wards have been set up all over UP and already infected people are recovering. state government. There is a need to be prepared to fight this disease. UP Govt. The state has taken several measures to reduce the impact of the virus. The state of UP has an adequate supply of food and medicines to deal with the coronavirus pandemic. The main objective is to bring down the level of infection of COVID 19 below zero.
People should not panic and fall into the trap of hoarding supplies and avoid unnecessary purchases. The CM also assured his citizens that the State Govt. There will be no shortage of food supply and other things in the state. For more details visit the official website upbocw.in