Installments of AP Jagannath Vidya Deewana Scheme 2021 (date wise) – YSR Fee Reimbursement Application Form
Government of Andhra Pradesh. Has started the Jaganna Vidya Deewana Scheme 2021. Chief Minister YS Jagan Mohan Reddy released the first installment of the Jagan Anna Vidya Deewana scheme on 19 April 2021. The total amount is Rs. 671.45 crores was paid directly into the accounts of women whose children are getting higher education. The second installment is released in July 2021, the third in December 2021 and the fourth in February 2022.
The objective of the Jagannath Vidya Deewana scheme is to help students from relatively low-income backgrounds to pursue higher education. Under the scheme, the money will be deposited directly into the accounts of the students' mothers. Earlier money was transferred to the owners of colleges. In this article, we will tell you about the installments (date wise) of the scheme and can fill the YSR Fee Reimbursement online form.
AP Jagannath Vidya Deewana Scheme 2021 installments (date wise)
Under this AP Jagannath Vidya Deewana Scheme 2021, AP Govt. 100% fee reimbursement will be provided to the students of poor class. As the first installment, Rs. 671.45 crores to benefit 10.88 lakh students. The Jagan Anna Vidya Diwan scheme has been designed to make education accessible to the poor and needy people. The real asset that can be given to future generations is education, which alone can eradicate poverty and change lives.
| | | | |
| --- | --- | --- | --- |
| Installment count | Installment release date | cost | The beneficiaries |
| 1 | 19 April 2021 | 671.45 crores | Rs 10.88 lakhs |
| 2 | July 2021 | – | – |
| 3 | December 2021 | – | – |
| 4 | Feb 2022 | – | – |
AP Jagannath Vidya Deewana Installation Date Wise
Last year, around 10.11 lakh students benefitted from the scheme. This year, a total of 10.88 lakh students, the number of poor students has increased to 77,000. AP Government About Rs. 4,879 crores on the education of children under this scheme after coming to power.
First installment release advertisement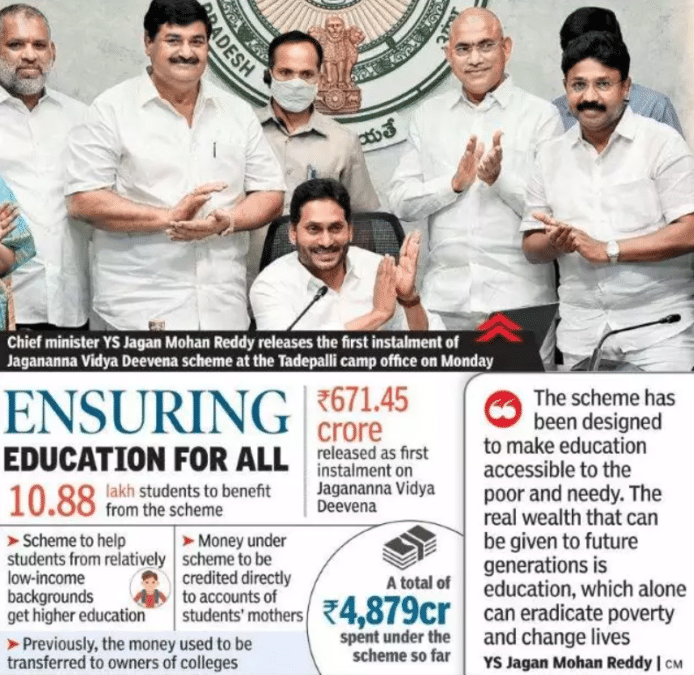 Apply AP Jagan Anna Vidya Deewana Yojana online form
This Jagannath Vidya Deewana scheme was first approved on 27 November 2019. Along with this scheme, AP government has also launched 2 other major schemes, such as Jagannath Vasathi Devena Yojana and YSR Kapu Nesam Yojana which were approved in the cabinet on the same day. The Jagan Anna Vidya Deevena Scheme online application form is available at navasakam.ap.gov.in, where people can download and apply for its benefits.
The Jagannath Vidya Deewana scheme will enable students to pursue their education without worrying about expenses. state government. The AP will pay the fee for all quarters in the same financial year without any arrears. About 10.88 lakh poor students will get benefit from this scheme so that they can get their higher education.
All interested people can download AP Jagan Anna Vidya Deven Yojana online application form through the link given here – http://navasakam.ap.gov.in/downloads/fee_reimbursement.pdf. AP Jagannath Vidya Deewana Scheme applicable online form will appear as shown below: –
AP Jagannath Vidya Deewana Scheme Eligibility
Important features and salient features of 100% fee reimbursement scheme are: –
Andhra Pradesh government schemes 2021Popular schemes in Andhra Pradesh:Andhra Pradesh Ration Card Listapp Transport Learner License (LLR) Online Application Form Ration Card Application Form PDF Download
Students belonging to Scheduled Castes, Scheduled Tribes, Backward Classes, Minorities, Kapu, Economically Backward Classes and Different Classes will be reimbursed under the Jagan Anna Vidya Deewana Scheme.
Any student whose annual family income is Rs. Less than 2.5 lakhs are eligible under the Jaganna Vidya Diwan scheme.
Those with 10 acres of wetland and 25 acres of dry land are also eligible for benefits.
There is no income limit for the families of sanitation works and for those who are professionally dependent on taxis, autos and tractors. However, income tax payers will not be eligible.
Initially, students pursuing B Tech, B Pharmacy, M Tech, M Pharmacy, MBA, MCA, B.Ed and such courses will be given full fee reimbursement.
Toll free number for Jagannath Vidya Deewana scheme
If there is any problem with the college management or Vidya Deewana, the beneficiaries should call 1902 Tax free number.
AP Jagan Anna Vasati Devena Scheme
AP Government Jagannath Vasati Devena also approves the scheme to help students with allegations of disturbances in their hostels and institutions. Under the scheme, ITI students will get Rs 10,000, polytechnic students Rs 15,000, and degree students will get Rs 20,000 as their mess charge every year. The amount will be paid in two installments, one in December and the other in July, and will be credited to the student's mother's bank account.
The cabinet also approved an allocation of Rs 2,300 crore for the Jagannath Vashikaran Yojana every year. The minister said that the allocation for the scheme was increased by Rs 1,500 crore as compared to the allocation by the previous government. A total of 11,44,490 students are expected to benefit from the Jagannath Vidya Devena Yojana and the Jagan Anna Vasati Devena Yojana. The YSRCP Government has allocated for the Fee Reimbursement Scheme of Rs. 1,800 crore as compared to the annual allocation made by the previous TDP government.
AP YSR Kapu Nestam Scheme
The AP cabinet has also approved the YSR Kapu Nesam scheme for women of Kapu, Ballija, Telga, Ontari communities. Under this scheme, women between the ages of 45 and 60 years of age will get Rs. Will be assisted. 15,000 per year. Each beneficiary will get Rs 75,000 over five years to help them improve their living conditions. The cabinet approved the YSR Kapu Nestam scheme with an allocation of Rs 1,101 crore and Rs 900 crore every year thereafter.
AP WoW Mitra Scheme 2
AP Government Has also allocated Rs. 63 crores for implementation of Wahna Mitra Scheme Phase 2 for auto, taxi, maxi cab owners cum drivers. Under this scheme, each driver / owner gets Rs. 10,000 per annum for the annual maintenance of their vehicles. The AP Vahana Mitra scheme was launched in September 2019 and more than 1.7 lakh applications were approved and approved for financial assistance.
Its guidelines were relaxed in October 2019 so that more owners could take advantage of the co-driver scheme. In the second phase, a total of 65,054 people applied for benefits and 62,637 applications were approved. state government. Has released an amount to benefit new beneficiaries. The total amount is Rs. 236 crore has been disbursed to the beneficiaries in these two phases of Vanna Mitra Yojana. Registration of beneficiaries will continue next year as well.
Finally, Navaratlalalu's Peddalanderki Illu (Housing for All Poor) scheme was also approved and Rs. 25 lakh houses are to be built.